Let the Sun Shine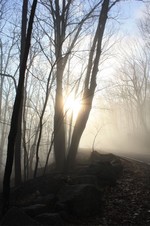 Burning off the fog. Photo by Karen Schaack.

March 28, 2009

Karen Schaack took this photo on Friday morning along the railroad tracks as the final remnants of the morning's heavy fog lifted.

Click on the photo for a larger view.





Comments:
Add a Comment:
Please signup or login to add a comment.