First Daffodil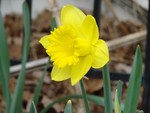 Daffodil photo by Nancy Peckenham.

March 26, 2009

Every year, the same daffodil, one of hundreds, is the first to bloom in my flower garden. The lovely yellow bloom appeared again on schedule, opening to the spring sun on Monday, March 23.




Click on the image for a larger view.





Comments:
I don't think ours have even sprouted!
Nancy, Don't forget to show us your daffodil garden in full bloom.
Add a Comment:
Please signup or login to add a comment.