Sunset on the Hudson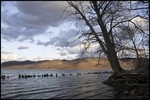 Sunset on the Hudson. Photo by Mel Kleiman.

March 26, 2009

Mel Kleinman took this photo when the tide was high on the Hudson River and sunset approached on March 22 -- the second full day of spring.


Click on the photo for a larger view.









Comments:
Was this taken near the area of River Ave and Shore Rd? Basically across from 4 little old houses (if they are still there) If so then I spent many days there because I use to live in one of those little houses. I miss the area very much.
Add a Comment:
Please signup or login to add a comment.