The Deer at Night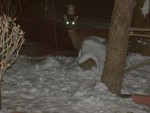 Deer at the bird feeder. Photo by Bob Langston.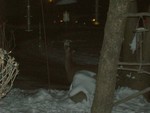 Photo by Bob Langston.

January 21, 2009

Two days after Bob Langston sent in photos of birds crowding his birdfeeder following a snowfall, he took this nighttime photos of another creature enjoying the bird feeder.

This is what Bob says about his two new photos: "After the bird shift is over, usually around 3:30 p.m., the deer shift starts. I first caught the deer in the feeder, then watching me. Sorry no red-eye reduction, she's got bright eyes!



Click on the photos for a larger view.





Comments:
Add a Comment:
Please signup or login to add a comment.