Photos: Bannerman in Gray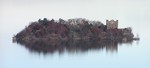 Bannerman Island in Fog. Photo by Frank Ostrander.

November 12, 2008

Frank Ostrander took this photo of Bannerman's Island on a cloudy November morning when the overcast sky was reflected in the water, suspending the castle in gray.




Click on the photo for a larger view.





Comments:
Add a Comment:
Please signup or login to add a comment.