Photos: A Yummy Summer Delight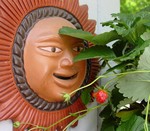 A Yummy Summer Delight by Linda

June 20, 2008

Linda, a Cornwall resident who prefers not to use her last name, sent in this photograph with the description:

"I was watering my hanging strawberry plant and started to laugh because it looks like my sun ornament is after the red strawberry. 'Ripe and ready to eat,' he would say.




CLICK ON THE PHOTO FOR A LARGER VIEW.







Comments:
Add a Comment:
Please signup or login to add a comment.