A Mother's Day Butterfly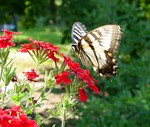 Butterfly by Linda M. Bates

May 13, 2008

Linda Bates says she put her Mother's Day plant on her back deck on Main Street and it immediately attracted this lovely butterfly.

She says the butterfly didn't seem to mind as she clicked away with her camera. "He fluttered around it for 15 minutes!," Bates writes. "A good sign that summer will be here soon."




Comments:
Add a Comment:
Please signup or login to add a comment.