A Cooper Hawk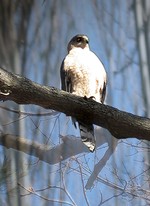 A Cooper Hawk by Laura Soles

April 04, 2008

Laura Soles of Orrs Mills took this photo of what she said she believes is a cooper's hawk.

She says that a pair of the birds sit in her frontyard warming themselves every morning.




Comments:
Add a Comment:
Please signup or login to add a comment.