People: Thomas Trainor: A Life in the Village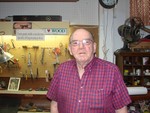 Thomas Trainor in his workshop at Butter Hill Antiques.

February 10, 2008

Thomas Trainor, 85, has seen good times and bad times since he was born in Cornwall-on-Hudson in1922. He was eight years old when the Great Depression hit and his parents struggled to raise four children in their home on Wood Avenue. His mother cleaned houses and took in laundry while his father, a skilled cabinetmaker, got work where he could.

Trainor remembers going out along the train tracks with his brothers looking for pieces of coal that had fallen off of the passing freight trains, then bringing them home for the fire.

On Sundays in the summer the children went with their mother to pick fruit and berries. Trainor says his father would kill a chicken once a week and that was the only meat the family had. The rest of the time they got by with oatmeal. "One time my mother put her head on her arm and wept cause we had nothing to eat," Trainor recalls.

President Franklin D. Roosevelt's National Youth Administration provided a chance to learn a skill when he was accepted at a vocational institute on Lake Ontario. He stayed for four years and learned drafting, blue prints, and woodworking. After graduation, he joined the Navy, where he stayed for four years during World War Two.

Back home in Cornwall-on-Hudson and still in his early 20s, Trainor was hired at the United States Military Academy. He married, worked hard, served his community and hasn't left the area since.

Click here for an article about Trainor's days as a trustee of the village of Cornwall-on-Hudson.




Comments:
Thomas, Do you remember anything about Dr. Ralph W. Thompson, Health Officer for the town of Cornwall? His son was married in the 30's; perhaps you knew that family and where they went from Cornwall.
Thomas, I do remember you very well. We lived next door to you on Wood Avenue. My Mom raised five children alone when my dad died. However, even tho we were poor, we never knew it. I will always cherish my childhood years in Cornwall the way it was. I hope you are well. Kathleen Mulrenin
Add a Comment:
Please signup or login to add a comment.