A Spectacular View

Hovering above the clouds by Karen Schaack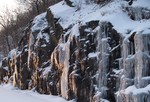 Icicles by Karen Schaack

January 18, 2008

Karen Shaack sent in these two photos that she took along Route 218 on the edge of Storm King Mountain.

The first photo captures the beauty of fog clouds rising above the Hudson River.

The second one glistens with the power of sun on ice.




Click on either photo for a larger view.







Comments:
Karen the photos are absolutely beautiful! Thanks for sharing.
Add a Comment:
Please signup or login to add a comment.