General News: Cornwall Resident Honored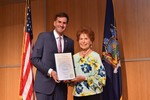 Elizabeth ?Betty? Longinott receives the 99th Assembly District Women of Distinction award.

May 11, 2019

From the office of Assemblyman Colin Schmitt

Washingtonville, NY -- (05/10/2019) Assemblyman Colin Schmitt (R,C,I,Ref-New Windsor) held his inaugural 99th Assembly District Women of Distinction event at the Orange County Emergency Services Center. This official State Assembly government event was created to recognize women from across the Assembly District who have made significant contributions to their communities and the 99th Assembly District.

The Town of Cornwall nominated Elizabeth "Betty" Longinott. Betty has a long record of service to the Town of Cornwall, and has a special devotion to local senior citizens. Betty served as the Receiver of Taxes for over 30 years, and as a Town Council Member for 4 years. Betty has helped many seniors to see the world by working to facilitate senior trips throughout the United States and Europe; and always looked after the travelers to assure that they were enjoying their travels. Betty leads senior exercise programs in town, to help others feel their best. Betty has volunteered in the Town Recreation Department, and formerly worked as a clerk in the Building Department, assisting the building inspector, developers and residents. Betty is the President of the Golden Age Club and helps to organize parties and other activities for local seniors.

Assemblyman Schmitt stated, "I am so proud of all of the 99th Assembly District Women of Distinction honorees. Elizabeth Longinott from the Town of Cornwall is well-deserving of this recognition. Elizabeth devotes her time to helping other local senior citizens from planning senior trips to leading exercise programs in Town. I appreciate all of Elizabeth's efforts for the Town and the 99th Assembly District."

Elizabeth Longinott stated, "I am very humbled to receive this award! I do what I do for my community because I genuinely love doing it!"

Colin Schmitt is committed to public service. Colin is a member of the U.S. Army National Guard and Assemblyman for the 99th NYS Assembly District which includes to the Town of Stony Point in Rockland and The Towns of Wawayanda, Goshen, Hamptonburgh, Chester, Blooming Grove, New Windsor, Cornwall, Highlands and Woodbury. Colin and his wife, Nikki, live in the Town of New Windsor.


Comments:
Add a Comment:
Please signup or login to add a comment.