Rings Pond in July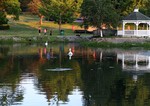 Photo by Kathy Eastwood. Rings Pond in July.

July 12, 2016

As Kathy Eastwood was coming home from work last week she noticed the reflection in the pond and snapped this photo.
Click on photo for larger view.




Comments:
Add a Comment:
Please signup or login to add a comment.