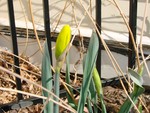 A daffodil bud appears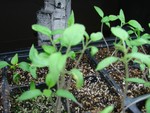 Three-week old tomato seedlings



March 29, 2007

The warm weather earlier this week woke the plants outside. Thursday morning I found two daffodil plants had pushed out their yellow buds, just waiting for a burst of warm sunshine to fully open.

Unfortunate for me, one eager to trumpet this undeniable sign of spring, Thursday also dawned cool and crisp, with frost on the ground and temperatures hovering at the freezing mark. The daffodil remained just buds another day.

Down in my basement, however, it is another story. Three weeks after planting tomato and broccoli seeds the plants stand about four inches tall and have branched out into their first true set of leaves.

The pepper seeds had germinated more slowly and are barely two inches high. Close behind them are the brussels sprouts that I planted ten days ago. I planted basil seeds the same day as the Brussels sprouts but they took nearly a week longer to poke up through the seed bed.

The variation in germination time and growth rate fascinates me. I guess if I became a geneticist I could identify the genes that cause each species to develop following its own unique plan. But then the magic would disappear.

Rather than understanding it scientifically, I prefer to watch in awe as the forces of nature unfold, enriching our lives with their diversity. I find the act is humbling and it entices me to spend more time in my garden or in the woods.




Comments:
Add a Comment:
Please signup or login to add a comment.