Click to visit the
Official Town Site

Gardening: A Tour of the Mid-Summer Garden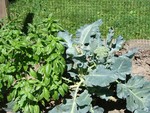 Broccoli and basil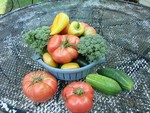 Early harvest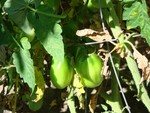 San Marzano plum tomatoes on the vine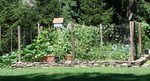 The garden patch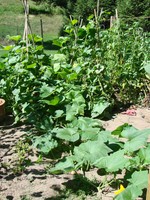 Tomato plants on right, cukes and squash on left



August 14, 2007

How strange to be writing this gardening column after an absence of two-and-a-half months, June and July, the period when plants are working overtime. You could explain my absence several ways: I was too busy working on this website, too involved in little league games, or too consumed with making the transition from end of school year to summer vacation.

I prefer to leave the burden of my absence with the plants that during this time were the stars. I had little to do but pull an occasional weed while they worked hard, performing their near-miraculous transformation from tiny seed to 10-foot-long vine, from inch-high seedling to six-feet tall stalk.

Let me give you a tour of what nature has wrought in the interim. First, with the seedlings that I started under grow lights in March.

I planted twelve of the tomato seedlings – six plum tomatoes and six heirloom Brandywine. The Brandywine tomatoes ripened first, at the beginning of August, the eight-inch fruits turning red seemingly overnight. The results were huge, in size and taste.

The San Marzano plum tomatoes, advertised as the best variety for canning and for sauce, hung heavy on the vine, but green still, waiting for just the right combination of sun and rain to send them into their full red glory.

The sweet pepper plants pushed out their fruit early as well, in early July. The peppers, however, were pale green, not like the variety of red and yellow promised on the seed packet. I picked and ate a few but I allowed the other peppers to hang. By late July one plant's peppers were turning orange, a sign to me that they were not yet ready for harvest.

The broccoli was tremendous this year, the individual heads much larger than in previous years. We started eating broccoli in mid-July with the expectation to pick more through the chilly autumn months.

I had planted eight basil plants, which proved to be more than I could handle. First off, Japanese beetles found the leaves before I could harvest them, gnawing lace patterns where plans for pesto once grew. I harvested what I could, made pesto, with walnuts, that I froze, then chopped the rest of the leaves up with a bit of olive oil and froze that, too. Two weeks later, there was a second crop of basil leaves waiting, this time without the beetle damage.

By early August the beautiful butter lettuce (from a variety dating back to the great horticulturalist Thomas Jefferson) was losing its steam but there was still enough to mix with the tangy mesclun to make a decent supper salad.

The biggest glory in early August may well be the cucumbers and squash, whose amazing transformation from seed in May to huge sprawling plants in July would put the most ambitious developer to shame. By mid-July I was picking cucumbers daily, although I must admit that I couldn't tell the difference between the smaller size that I had planted for pickling and the larger size intended for daily consumption.

I made pickles by the quart, which I will describe in detail in a future column, and ate them with dinner every night.

The butternut squash had formed small gourds beneath the yellow flowers by mid-July. As they grew, they slowly changed from white with green lines to a pale yellow. The growth rate for these squash is relatively slow. By early fall, once the green lines have all but disappeared, they will be ready to harvest. (And can be stored for use all through the winter months.)

The everlasting spinach proved best cooked before eaten, its rather crunchy consistency. The filet French green beans were delicious but sparse. I only planted six plants, then one died, not producing enough for a meal unless dining alone, a fate uncommon in my household.

Still to come, in a future column, is a report on the fingerling potatoes and Brussels sprouts, which are still working on their grand production, due in the weeks ahead.


Click on an image for a larger view.



Comments:
Add a Comment:
Please signup or login to add a comment.