History: Billiards on the Landing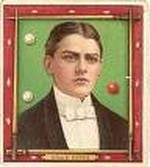 Boy Wonder Willie Hoppe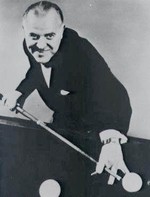 Hoppe in Action

January 09, 2007

By Warren Mumford

The year is 1947. About 200 scientists are witnessing an exhibition on a billiard table in an amphitheatre at the University of Michigan. The audience has just heard a lecture on the science of billiards by Engineering Professor Arthur Moore who has been analyzing the sport for six years. One of his conclusions is that the pendulum stroke (forearm swinging vertically from the elbow) is the scientifically superior way to strike the ball with the pool cue.

Onlookers notice, however, that the professional at the table, Willie Hoppe, is using an unorthodox sidearm stroke. When asked about his method, Willie responded that he probably developed this habit at the age of 5 playing in his father's barbershop.* The sidestroke was required because little Willie had to shoot lying belly-to-billiard table, too short to properly reach. A period news article describing the Michigan exhibition referred to Willie as "the greatest billiard player of them all."

This world-renowned billiards champion, born in 1887, honed his skills in our village of Cornwall-on-Hudson during the 1890's. His father, Frank, added a billiards table to his Cornwall Landing barbershop in 1892. Willie and his younger brother, Frank Jr., were called "boy wonders" at the ages of 11 and 9, playing in exhibitions up and down the Hudson Valley. After appearing in New York City, Boston, Cleveland and other cities in the western U.S., Willie turned professional in 1901.

In late 1905, Hoppe challenged the reigning world champion, Maurice Vignaux, to a match. He "stunned the world" on January 15, 1906, defeating Vignaux in Paris, France, to become balkline billiards world champion. Balkline was the most popular form of billiards at the turn of century. Willie went on to win numerous world titles (balkline and later 3 cushion billiards) over almost half a century. He won his final championship in 1952, after which he retired.

Frank senior's barbershop and, later, restaurant have long since disappeared from the river front, but the next time you stroll down to Donahue Park, imagine the excitement sparked over a century ago when the "boy wonders" were a sensation at Cornwall Landing.


* The account of this incident comes from

Time

magazine in 1947.




Comments:
Add a Comment:
Please signup or login to add a comment.