General News: Member's Choice Book Club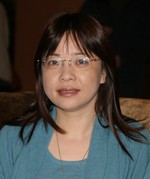 Lan Jiang. photo provided.

February 24, 2018

Join our Member's Choice Book discussion group

CORNWALL, NY – The Cornwall Public Library is always working to keep our programs relevant to our members. Our adult book groups continue to grow and change based on what we hear people want. The 1st Wednesday Book Group, which has been meeting for over 10 years and ably led by former Trustee Roberta Sherman, has been re-imagined as the Member's Choice Book Club. The group is looking for new members, so if you are the type of reader who enjoys having a say in choosing a book, this is the club for you! Members Tom Dames and Bruce Cohen say that this discussion group currently focuses on historical non-fiction and historical fiction, but are also open to other types of fiction, as well. Books are available to borrow at the library.

The next meeting will be Wednesday, March 7 at 7:00pm and the discussion will be on Code Girls by Liza Mundy – a riveting account of the American women code breakers of WWII. The April 25 meeting will run from 6:00-8:00pm with a discussion on The Great Bridge by David McCullough, and will feature a viewing of Brooklyn Bridge, the Ken Burns documentary film on the great problems and ingenious solutions that marked the construction of this iconic structure.




Comments:
Add a Comment:
Please signup or login to add a comment.