General News: The Art of the Story at the Library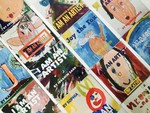 The Art of the Story

July 31, 2017

From the Cornwall Public Library

Library to feature the talents of 25 Cornwall youth

CORNWALL, NY – The Cornwall Public Library is very excited to showcase the work of over 25 children from Cornwall in its upcoming art exhibit: "The Art of the Story: Children Creating Visual Stories." There will be an opening reception on Friday, August 11th @ 3:30 PM in the library's community room. These young writers illustrated and wrote creative stories in a series of workshops during the 2016-2017 academic year with local artist and educator, Alaina Enslen. These stories show how children see the world around them and narrates their place in it through observation and imagination. The library is thrilled to be exhibiting the work of such talented, young artists, which will be on display until the end of August.

For more information, please call the Library at 534-8282.




Comments:
Add a Comment:
Please signup or login to add a comment.