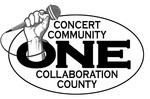 ONE, The Concert

March 25, 2018

Imagine for the very first time high school students from all Orange County uniting ONE night in a benefit concert for Their Community.

This unique event will take place on Saturday May 19th at Warwick Valley High School. "ONE, The Concert" will feature talented musicians and vocalists collaborating in concert with all proceeds going to the Orange County Arts Council.

High school students from Monroe Woodbury, Newburgh, Middletown, Goshen, Chester, Minisink Valley, Washingtonville, Pine Bush, Warwick, and Cornwall will join together; develop new friendships, sharing their talents instead of competing against each other. It's an opportunity to collaborate as a community of students showcasing their talent and bonding over what they have in common, a love for music and Orange County. Students will be formed into bands performing music across genres to please an audience of all ages.

The Orange County Arts Council is a private, 501(c)(3) organization dedicated to meeting the growing need for local arts advocacy and serving as a county-wide arts resource. Executive Director, Dawn Ansbro has partnered with Colleen O'Brien a senior at Warwick Valley High School to bring "One, The Concert" from dream to reality. "I'm so excited to hear the students perform together…we have so many exceptionally talented students in the county! Music has always been the universal language and the Orange County Arts Council is proud to be part of an event that uses music to make connections and bring people together." says Ansbro.

The stage has been set and the students are excited to be a part of this special event, but what is needed is community support and sponsorships. Sponsor opportunities are welcomed at a variety of levels with promotional and marketing partnerships to match. If you believe in the students of Orange County, if you'd like to support their desire to contribute to the community, if you support building a stronger Orange County arts community, and you believe music can be a uniting force, please consider joining in this effort to do so! Mark your calendar for Saturday May 19th, if you can't make it in person-please consider making a donation to Orange County Arts Council to support the arts in our community.



Contact Dawn Ansbro : (845) 469-9168 or dawn@ocartscouncil.org or Colleen O'Brien 845-544-4920, obrieneicolldan@gmail.com




Comments:
Add a Comment:
Please signup or login to add a comment.