General News: Cornwall Senior Wins National Writing Award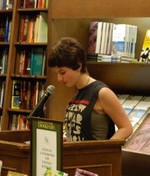 Lena Beckenstein reads from her work at a Barnes and Noble bookstore in Manhattan.

April 28, 2010

Lena Beckenstein, a 16-year-old senior at Cornwall Central High School, is the recipient of a 2010 National Scholastic Art & Writing Gold Medal Award and a Creativity and Citizenship Award for a dramatic one-act play she wrote.

Lena's play, "Threads," features three teenage girls who speak in monologues as they explore their growing awareness of their personal strengths and powers. Lena wrote the script in a workshop at the Writopia Lab in Manhattan, where she has been developing her writing skills every weekend for the past two-and-a-half years. Lena credits the collaborative process among participants in the workshop for strengthening her skills as a writer.

She will pick up her Gold Medal and Creativity and Citizenship Award at an awards dinner to be held in June in Manhattan. Later in the month, she will graduate from CCHS and rather than going straight to college to pursue a degree in creative writing, Lena plans to take a year off and has already landed a job at Writopia Lab, where she can continue to immerse herself in the creative culture that has fueled her writing success.

BTW, when Lena is in the city for the awards ceremony, she should take note of the gold colors that light up the Empire State Building. The building is being turned gold to acknowledge the accomplishments of the 2010 National Award winners and to honor the impressive legacy of The Scholastic Awards. In addition, Mayor Bloomberg has officially proclaimed June 9, 2010, as The Scholastic Art & Writing Awards Day.

Click here to read Lena's award-winning script, "Threads."




Comments:
Yay, LENA! We're so proud of you!!!!
Liz Nealon
Dipped into the play - strong piece of writing! Well done, and congrats on the award.
Add a Comment:
Please signup or login to add a comment.