General News: Poetry Competition Awards Presented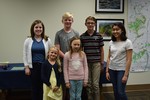 Poetry winners: front row(l-r), Clara E. Sanford, Adalyn Brown; back row(l-r), Ellie Barth, Wyatt McNabb Phillips, David Michael Kramer, Katelyn Lipton

May 13, 2017



Poetry Competition Awards Presented

CORNWALL, NY – On Sunday, April 30th, the Cornwall Public Library was pleased to recognize several young people whose original poems were named best in Cornwall Public Library's Annual Timothy Mumford Memorial Poetry Competition. The competition is held every year in memory of Tim Mumford, a Cornwall graduate who was a talented musician and writer. The winners read their poems to an appreciative audience, after which they received their awards during a special ceremony that took place in the library's community room. Over 70 original poems were submitted by people ages 5-18, and were read and critiqued by three independent judges: Randall Enos, the Youth Services Consultant for the Ramapo Catskill Library System; Steve Fowler, Writing Center Coordinator at Mount St. Mary College; and Kris Karaban, a retired language arts teacher of almost 40 years. The judges had no knowledge of the authors other than their ages, and conferred with one another to arrive at a unanimous decision regarding best poem in each age category, and best overall poem.

The 2017 winners are:

Ages 5-6 – Clara E. Sanford, "A Whole New World Under the Water"

Ages 7-9 – Adalyn Brown, "Eat a Poem"

Ages 10-12 – David Michael Kramer, "Thoughts from the Other Side"

Age 13-15 – Ellie Barth, "Fire"

Age 16-18– Katelyn Lipton, "A Forced Slumber"

Best Overall Poem – Wyatt McNabb Phillips, "Falcon"

All winning poems are posted on the library's website: http://www.cornwallpubliclibrary.org/mumford-poetry-winners/.




Comments:
Add a Comment:
Please signup or login to add a comment.