General News: Recent Drawings by Jackie Skrzynski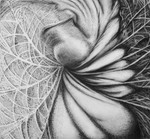 Wring by Jackie Skrzynski

March 04, 2018

Recent Drawings by Jackie Skrzynski

Seligmann Studio
23 White Oak Dr
Sugar Loaf, NY 10981

The Seligmann Center at the Orange County Citizens Foundation will be hosting an exhibit titled, "Recent Drawings by Jackie Skrzynski". Throughout her career, Jackie Skrzynski's work has challenged physical and psychological boundaries between humans and nature. In this most recent work, she collapses the perception of interior and exterior space. Her large charcoal drawings of swirling forms and tangles suggest similarities between anatomical and botanical forms. Skrzynski writes that her imagery is inspired by her time in the woods near her home. Observing growth, decay and rebirth, she intends to convey her perception of nature as equally beautiful and unsettling. Perhaps the somewhat grotesque imagery is mitigated by the lushness and velvety quality of her drawing.

Skrzynski states, "My drawings reference everyday observations I make of facial features, botanical forms, and anatomical elements. I combine them in a way that allows my subconscious to suggest imagery that visually and conceptually ties them together. By collaborating with my subconscious, and, importantly, overriding more rational, conventional depictions of portraiture and nature, I pay homage to the surrealists' method of creating art".

This exhibit will be on view from March 4th until Thursday, April 26, 2018.


Comments:
Add a Comment:
Please signup or login to add a comment.