CCMS Drama Club Presents...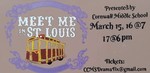 CCMS Drama Club Presents "Meet Me in St. Louis" March 15th-17th

March 15, 2018 —March 17, 2018

The CCMS Drama Club proudly presents the production of "Meet Me In St. Louis" on March 15 (7pm), 16 (7pm), 17(6pm) at the middle school.
The musical is based on the 1944 classic movie of the same name starring Judy Garland.

For tickets email ccmsdramatix@gmail.com



Comments:
Add a Comment:
Please signup or login to add a comment.