Nature Museum presents What's Bugging You!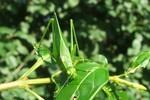 Katydid. Photo by Pam Golben.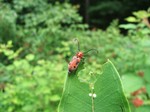 The Milkweed Bug. Photos by Pam Golben. Come learn about local insects at the Hudson Highlands Nature Museum on Sunday, September 30 at 10 a.m.

September 30, 2012


"What's Bugging You!" All About Insects
at the Hudson Highlands Nature Museum!

On Sunday, September 30, at 10 a.m., the Hudson Highlands Nature Museum will be hosting: What's Bugging You! Did you know that at the end of the summer insect observation is at its best? Come join an Environmental Educator Carl Heitmuller at the Museum's Outdoor Discovery Center, on Muser Drive, across from 174 Angola Road, Cornwall, to meet some giant insects plus learn about our local Cicadas and Katydids and other insects.
Create an insect keeper from recycled materials. After the program take a short hike with Carl in search of critters that live at the

Outdoor Discovery Center. Recommended for adults with or without children and for children ages 5 and up. Admission: $7/Adults - $5/Children. Museum Members: $5/Adults - $3/Children. For information visit the museum's website at www.hhnaturemuseum.org . or call (845) 534-5506, ext 204.For more information, visit hhnaturemuseum.org or call 845-534-5506, ext. 204.



Comments:
Add a Comment:
Please signup or login to add a comment.