Village Bandstand Concert on Tuesday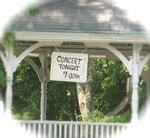 Bandstand Concert Tuesday night

August 27, 2013

Village of Cornwall on Hudson
28th Anniversary Season

2013 Bandstand Concert Schedule


Tuesday June 4* 7:00 PM Allegro Youth Orchestra 50 Pc. Classical, Pop, Rock & Jazz orchestra
Tuesday June 11* 7:00 PM CCMS Jazz Ensemble Middle School Concert
Tuesday June 18* 7:00 PM Johnny Jake 50s Rock & Roll
Tuesday June 25* 7:00 PM Groovy Tuesday 60s, 70s & 80s Hits

Tuesday July 2* 7:00 PM Stolen Heart Contemporary Country
Tuesday July 9* 7:00 PM The Jeremy Baum Trio Blues, Soul-Jazz & American Roots
Tuesday July 16* 7:00 PM Leo &The Lizards Classic Rock
Tuesday July 23* 7:00 PM Hurley Mountain Highway Folk Rock & Blues
Tuesday July 30* 7:00 PM Cornwall String Ensemble Classical Concert

Tuesday August 6* 7:00 PM Debbie Major & Steve Raleigh Jazz and Standards
Tuesday August 13* 7:00 PM The Greyhounds 60s Rockabily, Surf & R&B
Tuesday August 20* 7:00 PM The Differents Contemporary Hits
Tuesday August 27* 7:00 PM Johnny Jake 50s Rock & Roll

The 2013 concert season is dedicated to the memory of the bandstand founders:
Loraine Donahue, Bill and Ann Finnegan, Bill Fulton, Scottie Taylor & Steve Shand

* Rain Dates are the following evening. Rain cancellations will be posted at the Bandstand by 5:30 PM. Please call 534-3210 for concert and scheduling information.

Public donations for Bandstand Concerts are welcome and can be sent to:

Village Bandstand Committee
325 Hudson Street
Cornwall on Hudson, NY 12520

Parents: Please encourage your children to enjoy the concerts without disturbing others.





Comments:
Add a Comment:
Please signup or login to add a comment.