Earth Day at the Library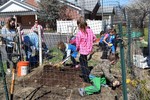 Dig in the Dirt Day 2016

April 22, 2017

Celebrate Earth Day @ the Library

CORNWALL, NY – The Cornwall Public Library will be celebrating Earth Day on Saturday, April 22nd with its annual Dig in the Dirt Day. Every year to mark the occasion, the library invites families to help our Youth Services department prep the library garden for planting. There are two sessions for this drop-in event, 10:00-11:30am and 1:00-2:30pm. Everyone is asked to wear clothes that can get dirty, bring a shovel or digging tool and bring a re-purposed container that can be used as a home for a seed. This event is RAIN OR SHINE!

The library is also hosting for the first time, a Repair Café on Earth Day. From 10:00am-2:00pm, volunteer repair experts will be available to help make repairs free of charge. Tools and materials will also be on hand. It's a great opportunity to bring your broken items from home, such as toasters, lamps, hair dryers, clothes, bikes, toys, crockery… etc. that need repair that you're not quite ready to part with.

The Repair Café concept arose in the Netherlands in 2009, and has spread worldwide. By promoting repairs, the Cornwall Public Library wants to help reduce mountains of waste. The Café also helps make connections between people in the community. The library is looking for volunteers to repair items, so if you would like to volunteer please contact the library's director Mary Lou Carolan at 845-534-8282 or mlcarolan@rcls.org.



Comments:
Add a Comment:
Please signup or login to add a comment.