General News: Local Man Volunteers for Disaster Relief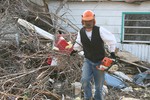 Hazirjian volunteered for tornado relief work.



By Bill Driscoll
HODR Operations Manger

Deke Hazirjian a Cornwall-on-Hudson resident and owner of Woody's All-Natural Burgers, recently volunteered in Gassville, Arkansas, with Hands On Disaster Response (HODR), a volunteer-driven disaster relief organization. He joined 200 other volunteers for nine days as they cleaned up the wreckage left by a string of deadly tornados on February 5th.

The EF2 tornado that struck Gassville that day destroyed 79 homes and affected more than 265 others. On hearing about the damage and the need for volunteers, Deke packed his pickup truck with tools and a chainsaw and made the trek from Cornwall to Gassville, where he joined other HODR volunteers already on the ground coordinating relief efforts.

An alum of HODR's 2005 Katrina Relief Project, Deke used his experience to lead other volunteers in Gassville on tree and debris clean-up jobs.

When he returned to Cornwall, Deke said he was physically tired by mentally refreshed. "It was a mental health vacation," he explained. "When you're there you are focused on nothing more than helping others instead of thinking about yourself. It's great."

He suggests that others check out the organization Hands On Disaster Response. You can visit www.hodr.org for a complete report on all that "Project Gassvile" volunteers accomplished between February 12-March 3rd.)




Click on photo for a larger view.







Comments:
Add a Comment:
Please signup or login to add a comment.