General News: Veterans Day Program at the Library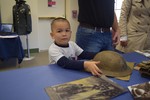 Veterans Day Program at the Library in 2016

November 09, 2017

from the Cornwall Public Library

Library to Host Popular Veterans Day Program

CORNWALL, NY – Cornwall Public Library is happy to offer our Veterans Day program again this year on Saturday, November 11. This is one of the library's most popular programs that brings all ages together to recognize and honor those who have served our country. We invite the community to bring in photos for the Library's Wall of Honor, veterans to come and share their stories, and all participants to create thank you cards that the library will send to veterans. This year's program will be from 11:30 a.m. to 2:00 p.m. in the library's community room. There will be a collection of memorabilia available to view that may include a uniform, parts of uniforms, medals, helmets and more.

Veterans are invited to bring in photos and memorabilia (all will be returned), and to plan on spending some time at the library during the program to share your stories and remembrances. This program is a drop-in event, no registration required. For more information, please visit our online calendar or contact the library at 845-534-8282.





Comments:
Add a Comment:
Please signup or login to add a comment.