General News: Police Bust Quaker Avenue Heroin Mill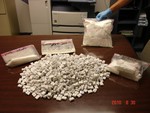 Police seized two kilos of heroin, some of which is seen here. Shown here are one thousand decks of heroine (each deck has 10 sleeves) and a bundle of heroine that has been ?sleeved? but not ?decked?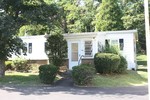 Police say this house on Quaker Avenue was used as a heroin mill.

August 29, 2010

Police in Cornwall raided a house on Quaker Avenue early Saturday morning, arresting six men on felony drug possession charges and seizing two kilos of heroin with a street value of $2 million.

Cornwall police chief Todd Hazard reports that his police department got some information on Friday night that led officers to get a search warrant for the premises, which is a pre-fabricated house near Route 9W. Hazard said that police found nearly 1,000 decks of heroin that were being readied fore sale, part of the two kilos.

Hazard said that the house had been rented recently for the sole purpose of operating a heroin mill, with no furniture inside it, just tables and chairs. Only one of the defendants, Franklin Reyes, 42, listed a Cornwall address, the others were from New York. Chief Hazard said that Reyes has been living up her for some time but he was not known to the police.

Cornwall police were assisted by the New York state police, the city of Newburgh police department and village of Cornwall–on-Hudson police department.

Arrested and charged with criminal possession of a controlled substance in the first degree, a class A-1 felony, were Franklin Reyes, of Cornwall, Juan A Perez, 36, of NYC, Luis A Miranda Cruz. 28, of NYC, Juan Deverez-Santana, 35, of NYC, Ramon Herrera-Fabre, 23, of NYC and Elvin Cortorreal-Solis of NYC. All six were arraigned before Cornwall Town Justice Thomson and remanded to the Orange County Jail without bail.
.



Comments:
Good job men.
Herion is deffinatly something we dont need in this town.
Thank you to whoever turned in the information leading to these arrests. Wow! Scary stuff here in our quiet little town. Well done Cornwall Police. Thank you!
Great work indeed. Thanks to all the police involved.
People don't realize but sleepy communities are the perfect locations for such an operation. Newburgh is the predominant front end, and the surrounding communities are the factory back end. But that is just my take on the situation. Again thank you, Cornwall PD.
This kinda makes the pot plants from a few weeks ago seem rather insignificant, no?
Sometimes even a blind squirrel finds an acorn. This totally ruined my day, now I'm gonna have to make a burgh run.
Add a Comment:
Please signup or login to add a comment.