General News: Local Charity Holds First Outing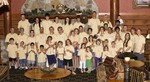 Participants in the first Inheritance of Hope retreat.

August 26, 2008

When Kirsten Milligan was diagnosed with terminal cancer, this 35 year-old Cornwall-on-Hudson resident and mother of three began to find more joy in her life than when she was healthy. She wanted to share this joy with other families who have a parent facing a terminal illness and that's when she and her husband, Deric, created a foundation to bring these families together for recreation and reflection.

Deric Milligan created the non-profit Inheritance of Hope, which earlier this month held its first all-expenses-paid family retreat outside of Lake George, N.Y.

"Seven families from three states attended our first retreat," said Deric Milligan, Executive Director of Inheritance of Hope. "They all bonded so well with the six other families that we are already discussing plans for a reunion early next year."

Millgan also said that the family retreat included a day at Six Flags Great Escape, a morning of relaxed white-water rafting on the Sacandaga River, a dinner cruise on Lake George, a private Sunday morning service, time for families to talk with other families and a professional counselor, and plenty of time for each family to create memories of their own. While the retreat was packed with activities for families, it was the special touches that made the retreat memorable.

"We had a date night for parents; breakfast delivered to the room; a videographer on hand to tape personal messages; and even a handmade photo album complete with photos taken during the retreat," said Milligan. "We focused on having fun, creating precious, lifelong memories and building a sense of community among participating families."

Inheritance of Hope paid for all of the transportation, lodging, meals and activities through tax-deductible donations made by various individuals from throughout the country.

To read find out more about Inheritance of Hope, you may visit its website here. To learn more about the Milligans, click here.





Comments:
Add a Comment:
Please signup or login to add a comment.