General News: Garden Club Plants and Flowers on Saturday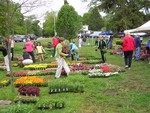 Flowers will be in abundance this Saturday.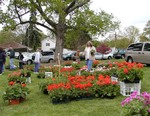 Geraniums, herbs, hanging baskets, and more!

May 10, 2018

from the Cornwall Garden Club

Cornwall, N.Y. ---- Mother's Day is right around the corner, and it's time to start thinking about buying that special someone a gift at the Cornwall Garden Club's annual plant sale. This year's sale will be on Saturday, May 12, from 8:30 a.m. to 12:30 p.m. at the park grounds in front of the Cornwall Town Hall.

"We hold the sale on the day before Mother's Day to make it possible for our customers to purchase a lovely plant or hanging basket for Mom," said Tara Ashcroft Hoffman, Cornwall Garden Club co-president. Geraniums, annuals, perennials and hanging baskets are among the plants available. She added, "Club members will be on site to answer your gardening questions and to help you plan your flower beds or vegetable gardens."

According to Rita Chase, the club's other co-president, the sale will feature plants that are colorful, easy to grow and affordable. "Our plants are all top quality and come from local growers, so purchases at our plant sale help to support area businesses," she added. Deer resistant plants, to include a wide variety of herbs, will be available again this year. "For those who are particularly interested in starting vegetable gardens there will be numerous vegetables to choose from," said Chase.
The plant sale will also feature a baked goods table with a wide selection of homemade items and a silent auction with a varied assortment of goods and services to bid on.

The funds raised at the plant sale are used by the club for community projects such as the plantings at the Village Bandstand and Chadeayne Circle, the Sands Ring herb garden, the Arbor Day tree planting, the Main Street planters and the flowers at Munger Cottage. Those interested in joining or learning more about the club are invited to stop by the information booth at the plant sale.



Comments:
Add a Comment:
Please signup or login to add a comment.