General News: Woman's Book Explains Illness, Hope to Kids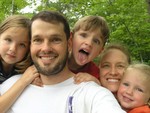 The Milligan family, Ashlea, Deric, Luke, Kristen and Rebecca.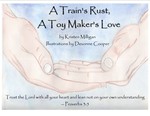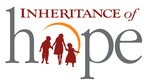 The Milligens started this foundation.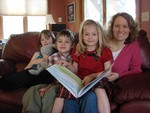 Rebecca reads the book her mother wrote.

April 21, 2008

By Nancy Peckenham

Kristen Milligan is an amazing woman, a mother of three young children, an author, and a person enjoying every moment of her life. Her real joy in life, she says, started after she was told she had terminal cancer and that she did not have long to live.

"I'm happier than I've ever been before," she said the other day as she sat in the living room of her Cornwall-on-Hudson home. "My fear about what would happen to my husband and my kids was all consuming at first," she said, referring to the day in 2003 when she first learned of the cancer, "but so many amazing things have happened, I don't worry any more."

Milligan, age 35, who home schools her children Ashlea, 9, Luke, 7, and Rebecca, 5, said she got the idea of writing a children's book as a way to prepare her youngsters for a future without her. She has a strong Christian faith and found that her faith in God has given her great peace.

Her first book,

A Train's Rust, A Toy Maker's Love

, tells the story of a family of trains whose mother begins to rust and eventually goes to live with the toymaker.

A second book,

Bunny Goes to Chemotherapy

, is currently in production. It features the photos she took when she went into Sloan-Kettering hospital for cancer treatment, taking one of her children with her each time to enjoy the sights of the city.

"We had a lot of fun going to the city for chemotherapy," Milligen said., explaining how the burden turned into a blessing that allowed her to get even closer to her children.

All of the proceeds from

A Train's Rust…

are being invested in a foundation started by Kristen and her husband, Deric. It's called

Inheritance of Hope

.

The foundation was created to provide special opportunities for families with a parent facing a terminal illness. This summer, a group of families will enjoy the first all-expenses paid vacation put on by the foundation – a four-day trip to Lake George.

"A lot of the families are struggling to keep up with their bills," Kristen said. "We wanted them to make memories together as a family that hopefully will be beneficial to them."

Her husband is trying to build Inheritance of Hope into a thriving operation. He plays trumpet with the USMA band at West Point and is studying for an MBA at New York University. At the school, his business plan for the foundation is a finalist in a competition that could result in a $100,000 grant.

Kristen, meanwhile, has written another book, this one for adults. The book,

Consider It Pure Joy

, is about the joy she has found in life after realizing that every moment is special.

She says that with her current treatment she tires in the afternoon and has trouble eating. While thin, she still projects a radiance of spirit. She sounds unfazed, excited even, when describing a three-month trip to Australia next September with the entire family.

Kristen invites everyone to visit www.inheritanceofhope.org and learn about the organization.








Comments:
Add a Comment:
Please signup or login to add a comment.